The term "levels of assisted living" is often used by communities that provide this kind of service to indicate the varied care demands of their residents. These levels are critical in defining the necessary assistance and services for individuals in the community and their families. However, understanding the particular significance behind these levels might be challenging at times.
Understanding the levels of care in assisted living communities is essential for you and your family. We've defined each class so you can grasp the common terminology and how it affects your loved ones' daily lives. Let's explore them together.
What are the Levels of Assisted Living?
In assisted living, "level of care" refers to the assistance a resident needs with ADLs (stands for activities of daily living). ADLs include everyday tasks like:
Ambulating or walking
Eating
Grooming
Toileting
Bathing
Transferring, such as getting in and out of bed.
Levels of assisted living care also include assistance a resident needs with managing their health, such as any medications or monitoring of health conditions, like diabetes or hypertension. A senior's ability to remember to take drugs and perform health-related activities like checking their blood sugar is considered when determining their level of care.
While some residents may only need reminders occasionally, others may need supervision or assistance with one or more of their ADLs. Each resident's needs are unique, but there are three broad categories communities use to define the level of care:
Level One: Lowest Care
Level Two: Moderate Care
Level Three: Highest Care
Level One: Lowest Amount of Care
Seniors who need level-one care are mostly independent. They may need to be reminded to perform some tasks, such as taking and refilling medication. They can get from place to place on their own or with an assistive device like a cane or walker, such as from their room to the dining room. They may need supervision or assistance for specific tasks, like checking their blood sugar or giving injections.
Level Two: Moderate Amount of Care
Seniors needing level two care need more support with some ADLs, but they can still do some independently. For example, a resident's mobility may be limited, requiring assistance dressing and getting around. However, they can still eat alone. Level two care includes medication management, reminding residents when to take prescriptions, or administering medication.
Level Three: Highest Amount of Care
Seniors who need level three care need assistance with most of their ADLs. They have severe limitations to their mobility or memory that require more comprehensive service with daily living. They may have more complex medical needs that require monitoring by a staff member, and staff administers their medications.
Assessing for Level of Care in Assisted Living
We know that one worry you may have about moving your loved one into a senior living facility is whether they will receive the proper care. In a nursing home, for instance, residents typically handle all activities of daily living (ADLs) and medication administration independently. However, it's possible that your loved one only requires assistance with a few tasks.
Our assisted living facilities use levels of care to ensure their residents receive support where they need it and remain independent in other activities. Before a senior joins the community, they are assessed for their level of care to determine their initial needs and create a care plan accordingly. In Vista Springs, we also provide a continuum of care, meaning if your loved one's health changes, their level of care can be reassessed to receive different or additional support.
Memory Care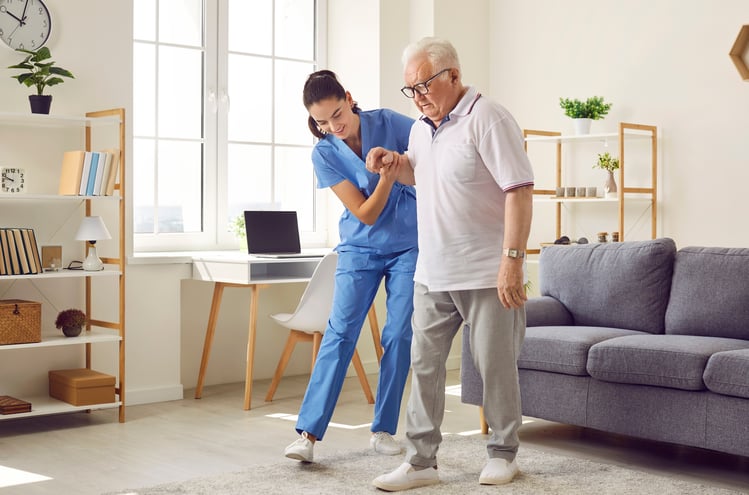 In addition to assisting with ADLs, our memory care Rediscovery Program helps seniors with memory loss from Alzheimer's and dementia. Likewise, our units have staff members trained to work with individuals living with memory loss, and the activities they offer give residents opportunities for socialization and active lifestyles that are important to keeping the brain busy and slowing the progression of cognitive decline. A community built for memory care may also be laid out and designed differently than other facilities to help residents find their way around independently for as long as possible.
Demystifying Levels of Care in Assisted Living Communities
Finally, at Vista Springs, we use levels of care to refer to the care needs of their residents. When researching assisted living communities with your loved one, it's essential to understand what these levels mean and what kinds of care your loved one will need, both now and down the road. Choosing a community that can support potential future needs gives you peace of mind and allows your loved one to age in place.
If you need more clarification about the assistance your loved one needs, take our quick assessment to better the level of care for their needs and contact us for further information.