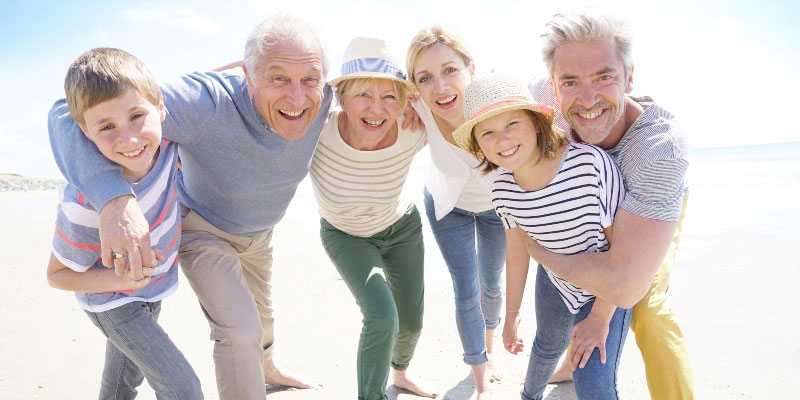 We all want to go on vacation during the summer months, and there's no reason why the whole family can't go on the trip. While traveling with a senior during the holidays or during the summer is more complicated than going on a vacation alone, it's going to be worth it when you can share the memories you've made for years to come.
Make Sure Your Loved One is On Board
Ensuring that your family member is prepared for the trip ahead is an essential step to a smooth vacation. Being upfront about what to expect will help everyone be ready for the good and bad of traveling. Don't frighten them with the experience, but be honest.
It's also important to make sure they actually want to go. Some seniors are content to stay at home and avoid traveling, so don't let your excitement and wishes overrule their own. You don't want to force anyone on a vacation that they don't want!
Find the Right Mode of Transportation
It's important to take into account how you will be traveling, as each mode of transportation has positives and negatives that will affect seniors differently.
Traveling by Plane
Airports can be loud and confusing, and some seniors who are wheelchair-bound or struggle with mobility might find air travel especially difficult. You never want the difficulties of travel to overtake the joys of a vacation. However, if you need to get someplace far away or out of the country, it may be the best option to avoid a long trip.
Traveling by Car
A road trip somewhere closer to home can help you avoid some of the pitfalls that can be found in a crowded airport, but a car ride comes with its own complications. A long car trip can be very tiring on elderly family members, and the constant jostling can be painful. But for shorter distances or for seniors who want to avoid the crowds at an airport, it can be a good idea.
Traveling by Boat
Cruises are a very popular mode of travel and vacation that your loved one might be interested in. While fun for all ages, cruises are especially great for seniors because the trip isn't as stressful as traveling by plane or car might be, and they have a room to relax in if they get overwhelmed. However, if your loved one gets motion sickness or seasickness, it might not be the best option.
Propose Some Activities for All Ages
Odds are you aren't only taking mom or dad on your vacation with you. Your spouse, siblings, or kids may be joining you. Because you might have a range of ages, it's important to plan activities that not only one age group will enjoy. The grown family may love a trip to the museum or a historical site, but your kids may be bored. On the other hand, while your kids might love a water park, it may not work for your senior loved one.
Think of activities that will keep everyone's interest, or if you do have specific things in mind that might not be all-age friendly, don't spend an entire day at those locations. Finding fun for all ages isn't easy, but it is worthwhile.
Keep Senior Safety in Mind
Just as you would remember sunscreen and bug spray for your kids, it's important to remember the things that your senior loved one needs as well, such as:
Medications— get a schedule of when they need to take medicines, and keep them close by even while in a plane or car.
Allergies— if you are planning on staying outdoors, find out their allergies and have a plan for when they act up. Don't forget about food allergies as well!
Healthy foods— Bring along energy-boosting foods that can help seniors regain some stamina.
Sun protection— Make sure you bring along plenty of water for everyone to drink, and that your loved one is getting plenty. Watch for signs of heat exhaustion or stroke, as elderly people are susceptible to the heat.
Plan Well in Advance
If it's just you and your family on a vacation, it can be fun to have a loose schedule without many activities planned to see where the day takes you. When you are traveling with an older family member, it's usually a better idea to have a plan. Make sure there are plenty of breaks planned in between activities to give your senior loved one time to adjust to traveling and regain some energy after a lot of activity.
Be patient, it's difficult for elderly people to travel and disrupt their daily routine. Try and keep some things the same, like eating at the same time as usual and waking up at the time your loved one is used to getting up.
There are lots of things to enjoy during the summer, and there's no reason why your elderly family members have to stay home and miss out on family vacations. As long are you are clear, take their opinions and wishes in mind, and plan ahead, you are sure to have a family vacation that will lift everyone's spirits.