Long-term care insurance is usually used to help pay for nursing homes or assisted living care after you reach an age where can no longer take care of yourself. However, there are many doubts as to whether the care is worth the uncertainty and the cost. Learn what you need to know about long-term care insurance, including the types of plans available, who can quality, and more tips on how to plan for your future.
What is Long Term Care Insurance?
Long-term care is the name given to insurance policies that are made to help you cover the costs of living that aren't covered under regular medical insurance. Specifically, long-term care insurance exists to cover the living expenses that come with nursing homes, assisted living communities, and other senior living facilities.
Long-term care insurance is important because it covers the things that Medicare and regular insurance policies don't. Medicare will not cover the cost of a nursing home or assisted living community, so you need to be prepared with other options.
In addition to the living costs of assisted living or nursing homes, long-term care insurance can also help to cover the costs of care for chronic medical conditions that can make themselves known after retirement or in old age. It also can cover activities of daily living, or ADLs, such as:
Bathing
Using the bathroom
Getting in and out of your bed or a chair
Dressing
Eating
About 50% of people will need help with either ADLs, the costs of care for chronic medical conditions, paying for senior care communities, or a combination of all three.
Traditional Policies
The traditional way that long-term care policies work is that after finding a company that sells policies and getting approved, you start paying premiums. Policies usually have a lifetime cap of what you can pay. Once you reach an age where you need help with ADLs or need to move to a senior care facility, then you make a claim.
After making a claim the insurance company will verify with your doctor, check your medical documents, and send a nurse to evaluate your health situation. If approved, there is still a waiting period— usually between 30 to 90 days— before your policy will pay out.
A problem that began to arise with these traditional policies is that the premiums could suddenly spike. Another problem that came with a traditional policy was the uncertainty that it would ever be needed. Paying into a policy only to find out that you didn't need long-term care helped to lead to a dramatic drop in popularity for long-term care policies.
Very few insurance agencies sell these kinds of policies anymore, although you can still find one if it appeals to you. After the decline in these policies, a new type of long-term care policy began to emerge.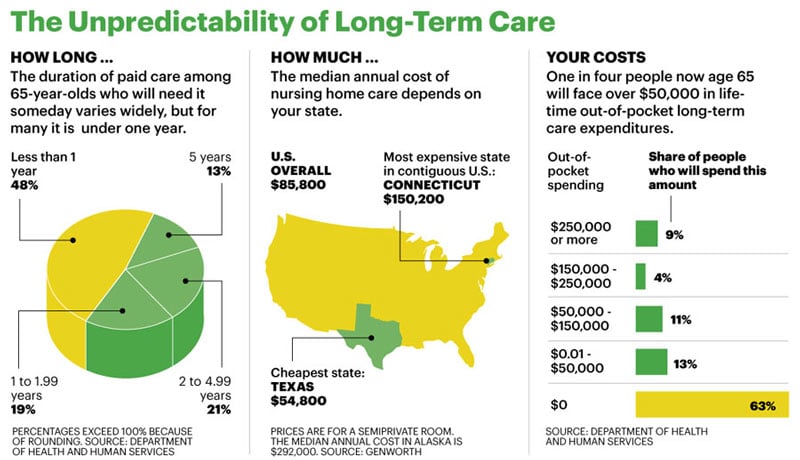 (source: aarp.org)
New Policy Options
The new type of policy that covers long-term care is often called a "hybrid policy". These are life insurance policies that cover you for your whole life. Hybrid policies have a locked premium that doesn't change, and you can draw from them to pay for ADLs and long-term care living as you age.
These policies also have a money back guarantee. If you don't end up using the policy to pay for ADLs or long-term care, then you still get a return on what you paid, either to be left to an heir in your will, or to be used for other care costs that you encounter as you age.
The downfall of these policies is that there are more expensive than the traditional policy. Because you have guaranteed money coming back to you, the initial premium that you pay is going to be higher than traditional long-term care insurance policies, even though traditional policies can have premium hikes.
Who Qualifies?
As with all insurance policies, there are people who will qualify for long-term care insurance and those who won't. The older you are, the less likely you are to qualify for long-term care insurance, so planning ahead is essential. If you already have an existing chronic health problem, you are also not as likely to be covered.
If you are worried that you are too old or have existing health problems, then applying for a newer hybrid policy is going to be the best course of action. These are much more flexible in terms of coverage, and your chances of qualifying are higher.
Have a Plan
Even if you decide that long-term care insurance is not for you, you still need to have a plan in place for when you reach a certain age. Remember, half the population is going to need assistance with ADLs or need to move into a nursing home or other type of assisted living community. These costs can come out to about $140,000 on average, and if you are paying out of pocket that's a lot of money.
You can't always predict ahead of time if you are going to need long-term care, and because it isn't paid through Medicare or regular insurance policies, you need to have a plan in place for how you are going to pay for medical costs. Start planning as soon as you can so you have the most options available to help pay for long-term care.