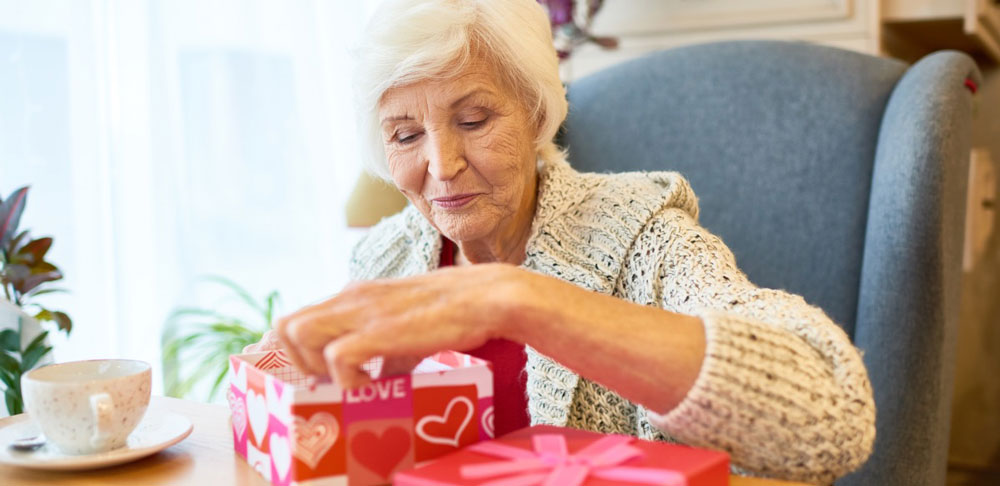 Valentine's Day is a great time to tell the loved ones and friends in your life how much you appreciate them. And you don't have to have a spouse or romantic partner to enjoy the holiday! While you and other seniors might not be going out for a night on the town, there are still plenty of ways to enjoy Valentine's Day, either with a spouse, a new friend, or with others in your community.
Crafts
A great activity to try on Valentine's Day is crafting. Break out the colored paper and the markers, and have fun getting creative! There are lot of different projects you can try your hand at, but here are some of our favorites:
Paper flowers: Paper flowers are an incredible versatile craft. They can be made with all kinds of paper in any color and design that you choose. Paper flowers are especially nice for Valentine's decorations because they last much longer and are less expensive to get than real flowers. While pinks and reds might be fun for Valentine's day, any color would work for this craft! Take a look at these how-to's for inspiration and instructions!
Pop-up cards: Cards are a Valentine's staple, but making a pop-up card is a nice change to tradition. These cards are simple to make but can bring a "wow" factor that will impress anyone. This website has excellent step-by-step instructions, as well as some printable artwork you can use for any occasion!
Heart wreaths: There are a lot of different ways to make wreaths, but they all have the same effect of making any space look decorative for the holiday. Whether you make them with the paper flowers from earlier or from another material, hanging these on your door will bring joy to anyone who sees them. Take a look at this tutorial for a heart wreath made of felt, if you're looking for ideas.
Decorating
Redecorating a space is always refreshing, especially around a holiday. It can help you recall wonderful memories and enjoy the spirit of the day. Adding little touches around your home like banners, wall hangings, or flowers can brighten up any place for Valentine's Day.
If you do make any crafts, make sure you display them so you can show them off to friends and family. Even small things, like decorative centerpieces and pillows, can help spruce up a room for a great Valentine's Day get together.
Making Gifts
Gift-giving is one way you can show the loved ones in your life that you care about them, and Valentine's Day is a good time to be able to do that. Making cards and giving chocolates to friends and family is all part of the spirit of the holiday.
While you can always buy cards and gifts for people, making them by hand gives more depth to the message. Try making simple cards for the people you know, or use your new crafting skills to make little little presents to surprise your loved ones.
Baking
Baking is another way to spend Valentine's Day doings something fun. If you bake everyday then Valentine's is a time to try out new recipe or decoration, and if you don't bake than you can use this time to try out a new hobby!
There are a lot of different treats to try and make, such as:
Dessert Bars
Decorative Sugar Cookies
Heart-Shaped Brownies
Berry Cheesecake
Red Velvet Cupcakes
Chocolate Mousse
Truffles
Tiramisu
We love recipes from the American Heart Association for tasty and indulgent desserts that are still part of a heart-healthy diet.
Watching Romantic Movies
Another fun way to celebrate Valentine's Day is to watch a romantic movie. There are so many to pick from there is no doubt that you can find one— or several— that appeal to you. Many T.V. stations will already be showing them, or you could try a streaming service such as Netflix or Hulu to find even more to choose from.
This is also a fun activity to do with family and friends. If you live in an assisted living community or another senior living community then see if you can help plan a viewing party with your neighbors and friends so you all can enjoy the holiday together.
Inviting over Family and Friends
What better way to spend Valentine's Day than with the people that you care about the most! Invite over family and friends for dinner, a get-together or party, or just have them stop by to hand off gifts or cards and tell them that you love them. Valentine's Day is a good time to make sure that everyone you appreciate knows that you do.
Valentine's Day activities are by no means limited by age! Whether it's a romantic dinner with your spouse or a fun get together with your friends, Valentine's Day is a great time to remind everyone special in your life that they are important to you.